Meet world-renowned researchers at the ACM Distinguished Lecture Series hosted by CRS4. The lectures, sponsored by the Association for Computing Machinery (ACM), the world 's largest educational and scientific computing society, are open to students, researchers and those working in industry and education to share the latest leading-edge research.
---
Speaker Hanan Samet
Biography. Hanan Samet received a B.S. degree in engineering from UCLA, an M.S. degree in operations research and M.S. and Ph.D. degrees in computer science from Stanford University. At Stanford, he was in the Stanford Artificial Intelligence Lab where he was one of the developers of the SAIL programming language compiler. His doctoral dissertation dealt with proving the correctness of translations of LISP programs and was the first work in translation validation and proof-carrying code.
In 1975 he joined the Computer Science Department at the University of Maryland, College Park, where he is a Distinguished University Professor.  He is a member of the Computer Vision Laboratory and leadsa number of research projects on the use of hierarchical data structures.  He has over 375 publications on data structures, computer graphics, computer vision, geographic information systems (GIS), spatial databases, robotics, and search.  His research group has developed numerous systems including the SAND Browser which enables browsing through a spatial database using a graphical user interface, the VASCO spatial indexing applet, the STEWARD system for identifying the geographic focus of documents thereby facilitating the performance of spatio-textual search to enable searches that rank the results by spatial proximity rather than by exact match, the NewsStand and the CACM October 2014 cover issue with an accompanying video, and the TwitterStand system that apply these ideas to a database of news articles and Tweets, respectively, that enable them to be accessed using a map query interface. Read more...

Lectures
Admission is free of charge, please register at the links below.

Upon request, registered participants who attend the lectures will receive a Certificate of Attendance.
Contact is Fabio Bettio (fabio.bettio@crs4.it)
---
The event is organized by the Visual Computing Group at CRS4 within the activities of the project "Data-Intensive Visualization and Analysis- – DIVA" funded by the EU within the 7th Framework Programme.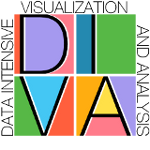 CRS4 acknowledges the collaboration of the University of Cagliari and the support of the Municipality of Cagliari (Convenzione nr. 57 del 26/5/2015).