Aula Magna, Faculty of Engineering and Architecture, University of Cagliari, Piazza d'Armi (Cagliari)
July 21, 2015 - 15:00 - 16:30
Hanan Samet - "Duking it out at the Smartphone Mobile App Mapping API Corral: Apple, Google, and the Competition"
Abstract. The recent introduction of the Apple iPhone 5 and the accompanying iOS6 software environment which, among other changes, replaced the use of the Google Maps API in iOS5 by Apple's own Maps API, has led to significant changes in the user experience with apps that make use of maps and has resulted in closer scrutiny of mapping applications on mobile devices. Many of these changes in the user experience deal with the quality of the data that is being produced and presented to the user, and has led to a wide ranging discussion of data quality and the seeming lack of quality assurance policies and protocols by Apple. These are widely documented in web postings. However, equally important are significant changes in the manner in which the data is presented to the user, but, surprisingly, not much attention has been paid to this aspect of the user experience which is somewhat analogous to the concept of the "last mile" when discussing the bandwidth of communications networks and its associated costs. The changes in the presentation and in the amount of data that are presented to the user on the Apple mapping platform, with an emphasis on mobile devices with a small form factor such as smartphones, are tabulated and compared along with other mapping platforms such as the iOS apps of ESRI, MapQuest, and OpenSeaMap (using the open source map data of OpenStreetMap), as well as Bing Maps and Nokia Maps for which no iOS app exists and thus the corresponding mobile web versions are used. Both the pre-iOS6 and post-iOS6 versions of the Google Maps API are included.
Keywords: Cloud and Information Retrieval, Computer Graphics, Visualization and Interactive Techniques, Databases and Information, Human Computer Interaction, Knowledge Discovery in Data, Mobile Computing, Web Topics.
---
Contact is Fabio Bettio (fabio.bettio@crs4.it)
Please compile the online registration form below (only 300 seats available).
Upon request, registered participants who attend the lecture will receive a Certificate of Attendance.
---
The event is organized by the Visual Computing Group at CRS4 within the activities of the project "Data-Intensive Visualization and Analysis- – DIVA" funded by the EU within the 7th Framework Programme.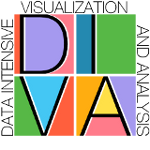 CRS4 acknowledges the collaboration of the University of Cagliari and the support of the Municipality of Cagliari (Convenzione nr. 57 del 26/5/2015).