The dissemination activities of a practical approach to STEM (Science, Technology, Engineering, and Mathematics) disciplines, initiated by CRS4 on March 13, 2023, in nurseries and primary schools in Sardinia, are continuing. In three months, we have reached 56 schools in 31 municipalities, involving a total of 2077 boys and girls in fun experiments to explore science.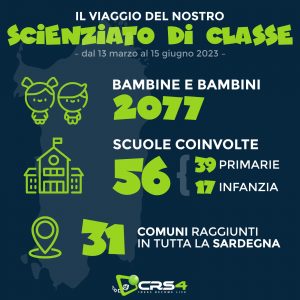 Through this educational activity dedicated to young children, CRS4 aims to achieve the following objectives: satisfy the natural thirst for knowledge of boys and girls, motivate them to continue exploring the world through the scientific method, introduce them to computer science in a playful approach, develop awareness of their inclination towards the scientific approach, and counteract stereotypes and prejudices that can lead to gender discrimination in scientific careers.
The initiative will resume in September and aims to involve approximately 6000 boys and girls in 90 municipalities in Sardinia during the 2023-2024 school year.
Municipalities reached as of June 14, 2023.
Cagliari, Olzai, Ollolai, Ovodda, Gavoi, Jerzu, Gairo, Ulassai, Perdasdefogu, Carloforte, Orgosolo, Oliena, Oristano, Simaxis, Orosei, Dorgali, La Maddalena, Guspini, Sinnai, Alghero, Serdiana, Arzana, Ilbono, Elini, Giba, Masainas, San Giovanni Suergiu, Lula, Orune, Sassari
---