On Thursday 23 September, Cecilia Mascia, researcher at CRS4, presented the work "Data Management Plan: a required data travelogue" at the 3rd Open Science FAIR Conference, an international event for all topics related to Open Science.
The work is part of the collaborative research carried out by the Bioscience and Visual and Data-intensive Computing groups of CRS4 and the Biomedical Research Support Unit of Sardegna Ricerche.
The work is part of the I FAIR Program, an initiative to introduce FAIR data principles and to promote and adopt best practices of research data management in the biomedical research community in Sardinia.
FAIR data meet principles of Findability, Accessibility, Interoperability, and Reusability. The FAIR principles emphasize machine-actionability, such as the capacity of computational systems to find, access, interoperate, and reuse data with none or minimal human intervention.
The work discussed is addressed to staff involved in the design, implementation and evaluation of Data Management Plans (DMP) in clinical research studies.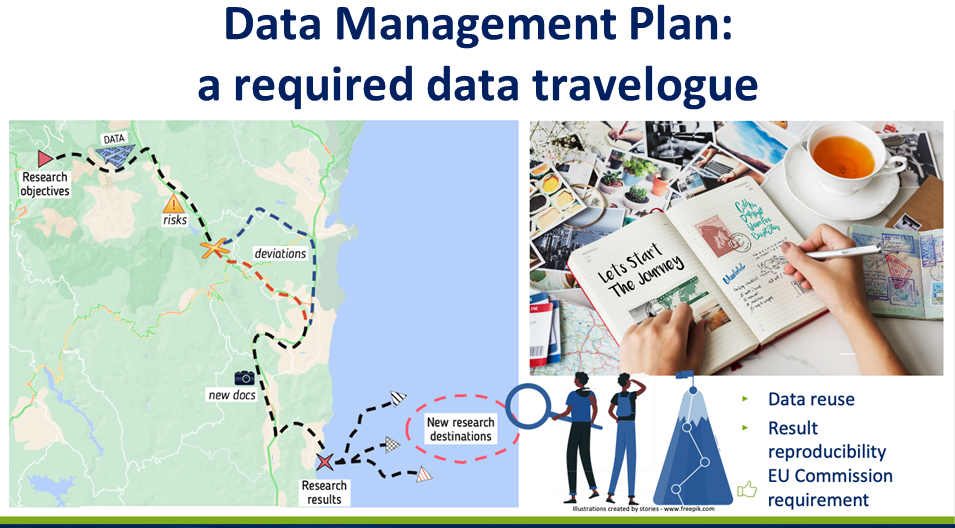 The preparation and implementation of a good  DMP helps to focus on different aspects of research data management (like ethical-legal or technological requirement resources involved, FAIRness) thereby fostering potential benefits for data analysis and repurposing. However, preparing a good DMP is often a complex task. A number of existing tools tries to simplify the preparation by automatically generating a DMP from a set of questions, but the difficulties in tailoring predefined plans to specific use cases sometimes lead to the compilation of not exhaustive documentation, especially for those who are new to this task. To alleviate these challenges we have created a guide to support the writing of the DMP, combining key content practical recommendations and references extracted from the most common DMP models. CRS4 an SR researchers structured the guidelines as a complement to the analysed templates and tools to stimulate researchers towards a critical exploration of the many different aspects, possibly adapting them their domain specificities. In this way, we believe that the whole project team could be encouraged to consider the DMP as a travelogue to be followed over the project lifecycle and further, updating it whenever necessary.
The guide is openly available on Zenodo and it is currently being validated by the researchers of the I FAIR Program.
---