Facilities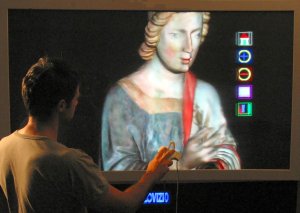 CRS4 provides a reliable computing and communications infrastructure for its users, and, in collaboration with this community, it evaluates, implements, and supports new and emerging information technologies. High performance computing is one of the principal elements of CRS4's toolchest.
The hardware available at CRS4 includes parallel computer with shared memory as well as clusters and data servers.
In addition, the Visual Computing group manages a virtual reality research and development laboratory and a video production and postproduction laboratory.
For graphics research and development activities, we have been historically using Silicon Graphics workstations, but we gradually moved to single- and multi-processor PC solutions. Our currently preferred platforms are Linux- based Intel and AMD machines, with NVIDIA, ATI or 3DLABS programmable graphics boards. For compatibility reasons, we also use Windows/Macintosh machines.
Our projects range from desktop 3D tools to immersive virtual environments with haptic feedback. For virtual environment work, we exploit a wide range of interaction and display devices. Interaction devices include PHANToM force feedback arms as well as commercial and custom-made 3D trackers. Our displays include a custom made immersive workbench, VB30 virtual binoculars, large scale projector-based stereoscopic displays, as well as novel light field displays manufactured by Holografika. In particular, we exploit a 7.5Mbeams TV-size light field display mostly for medical applications running on single desktop PCs, and and a large (1.6x0.9 meters) 35Mbeams display driven by a cluster, which supports a room-size working space, and is suitable for a wide range of applications.
As a complement to our research and development activities, we are also providing specialized visualization, production, and post-production services to all other CRS4 areas. Video editing is done on PC or SGI workstation equipped with digital video input boards. A selection of our videos and images is available on our web site.