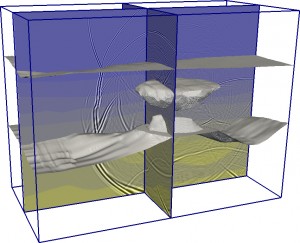 WAVE MODELLING IN COMPLEX MEDIA
The Spectral Element Method (SEM) is acquiring more and more attention within the geophysical community for the design of very large 3D simulations. It is the second most used numerical
approximation technique for the study of wave phenomena after finite-difference schemes and has excellent properties in terms of accuracy and numerical dispersion. This technique is based on an h/p approximation and uses unstructured grids that allow a quasi-optimal distribution of the solution grid points, reducing both memory usage and computational time. Since the solution algorithm on the elemental domain discretization can take advantage of data locality, the implementation presents significant acceleration perspectives on GPUs and dataflow engines.
Our application can simulate waves travelling in orthotropic and non-linear solid materials with liquid-solid interfaces. Its implementation, which deals with multiple shots on realistic domains with an automated mesh generation, can run on a distributed memory cluster through a domain decomposition technique, and has a low memory footprint allowing simulating sources with realistic peak frequencies, useful for various seismic activities.
The final product constitutes an innovation that opens new perspectives toward industrial uses, allowing superior accuracy both for high contrast velocities and for the simulation of converted waves. This tool constitutes also a key factor for the design of effective acquisitions in complex-geology areas.