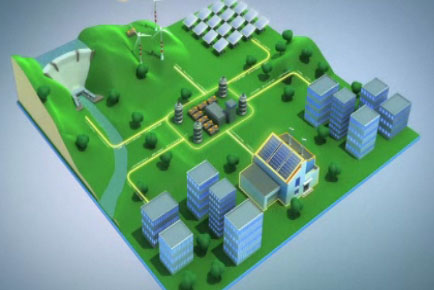 The Smart Energy Systems (SES) Research Program is focused on applied research into all energy resources and technologies for industry, households and services. Our strength is in the integration of a multidisciplinary analysis of the problems, in the experience in theoretical model development, and in the technical expertise in development and usage of high performance software. The Programme directly contributes to the regional, national and european goal of creating and developing technologies for:
Intelligent power grids: our research is focused on the development new tools for the forecasting of renewable energy production, energy consumption, and smart control of the grid.
Energy conversion: our main interests are in the electrochemical processes in fuel cells and in the complex chemical, thermal and fluid dynamic processes involved in the combustion systems.
Renewable energies: our focus is in the development of analytical and numerical models and tools for solar concentration plants and heat storage.
Partitioning and transmutation: the aim is to provide tools and expertise in the field of design and analysis of systems for nuclear physics and engineering applications.
Activities
CFD for Partitioning and Transmutation (P&T) systems
Moving mesh methods in CFD
Elastic Wave Modelling in Complex Media
SES
---