The research activity of the
Modeling, Simulation and Data Analysis
(MSDA) program is focused on
mathematical modeling and computing simulation
for applications ranging from
chemical engineering
,
biotechnology
and
life science
to processes of interest in energy and environmental sectors.
Fields of research are rooted in physics, mathematics, chemistry and biology and take advantage of the expertise of MSDA team in high performance computing and mathematical modeling at various level of scale, from molecular to the process one.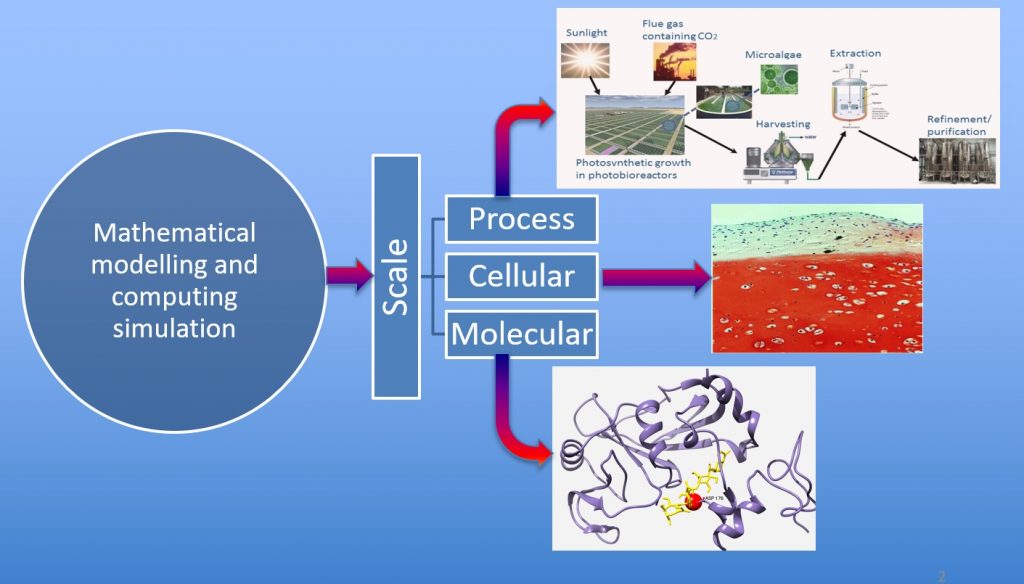 Systems and processes are simulated by implementing mechanistic approaches as well as data-driven ones for the estimation of model parameters in order to interpret experimental data and/or to validate the developed models for their use in forecasting, design, scale-up, process optimization, etc.
Datamining techniques are also used to extract information concerning physicochemical and biological properties of molecules and materials of interest by taking advantage of specific data banks. Beyond the use of open source software, in house-computational codes are properly implemented to HPC platforms for simulation runs.
Some current research activities include:
CO2 sequestration through microalgae cultivation and production of biofuels, nutraceuticals, pharmaceuticals, bioplastics, cosmetics, etc.;
Docking and molecular dynamics techniques for the study of chemical and biophysics systems (e.g., molecular structures, molecule-protein, protein-protein, ligand-receptor interactions, etc);
Datamining, Machine Learning and Artificial Intelligence for chemistry, pharmacology and in large for life sciences, including:

a) automatic force field building for Molecular Dynamics;
b) unsupervised molecular properties prediction.
---
M&S
---