The ubiquity, portability and mobility of digital technologies are transforming agriculture. Although this is one of the slowest sectors to adopt digital technologies, the transformation towards the numerical treatment of data is universally identified as the third great revolution in agriculture, preceded in the last hundred years by mechanization and the introduction of biotechnology.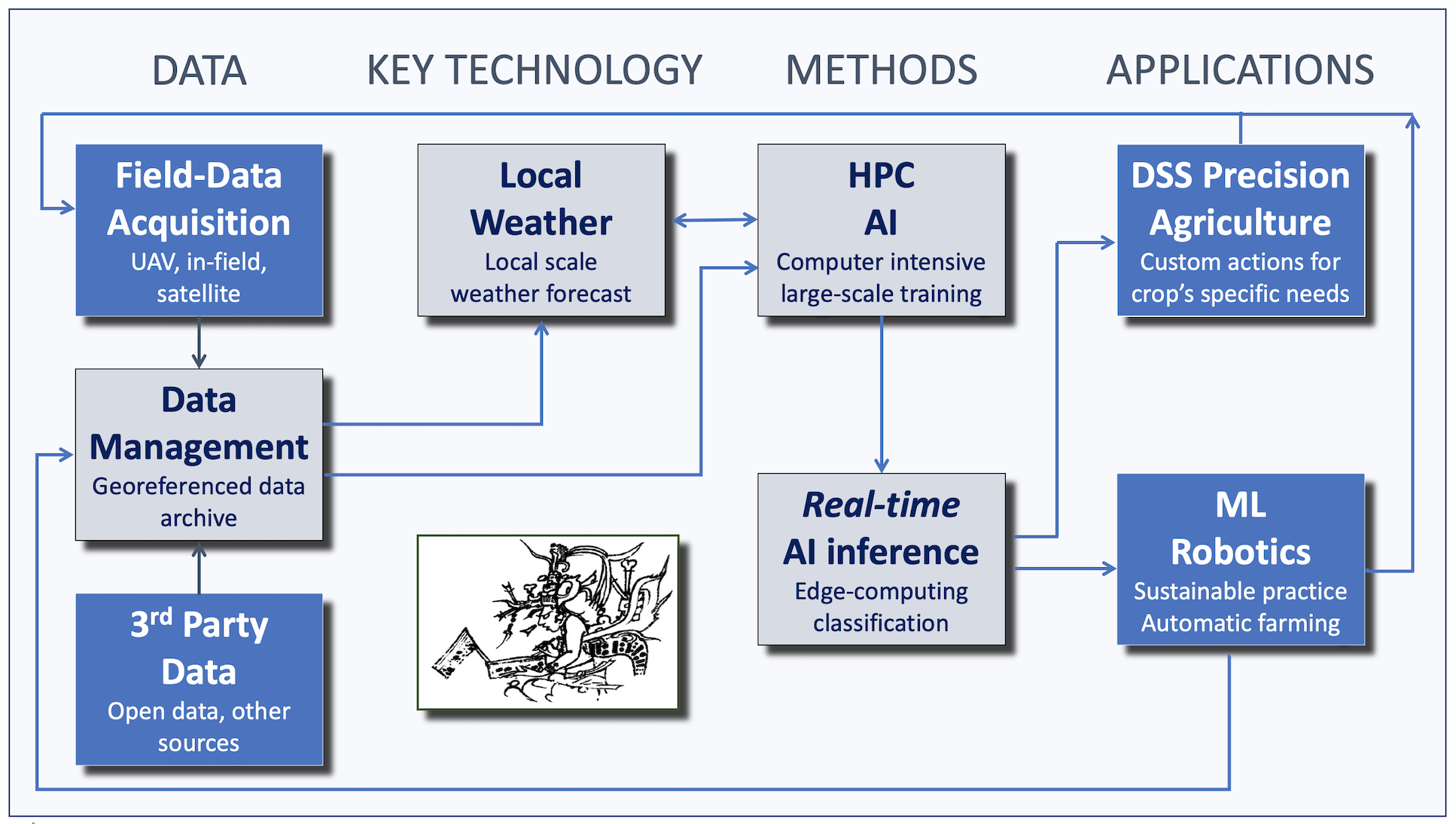 The business strategy and even the organizational structure will change over time as more digital data will be available through the dissemination of sensors capable of detecting soil and crop condition. In general, the joint proliferation of widespread sensors and distributed computing has already triggered the development of new numerical technologies used to transform assimilated data into usable knowledge. Algorithms and software for machine learning and artificial intelligence, adequately specialized for monitoring and agricultural production, will offer users, including small farms, answers and decision support to increase crop yield, improve profitability and enhance sustainability in a competitive market that estimates the world population at 9 billion by 2050. To feed this dramatically increasing population, the agricultural industry will need to produce 70% more food using only 5% more land. This, coupled with increasing environmental pressures and regulatory constraints, represents a challenge of enormous proportions. It is now widely recognized that digital agriculture will undoubtedly be necessary to meet these needs.
Our Idea
We collaborate with a small number of end-users from relevant agricultural sectors, who participate in identifying priority agriculture 4.0 technologies and make on-farm experimentation possible by providing agricultural machinery, their day-to-day experience as operators in the sector and the necessary information on field practices. As our mission is highly implementation-oriented, we also consider it essential to cooperate with research institutes, public agencies and professional organisations operating in the agricultural sector.
Our areas of expertise
We have 30 years of experience in the field of computational mathematics and numerical simulation focused on the study of engineering, industrial and environmental science applications. We specialise in computer analysis of large-scale problems (HPC, High Performance Computing) for which we use both optimised mathematical algorithms and high-performance hardware platforms (parallel machines, accelerators, etc.). We are convinced that the optimal implementation of complex machine learning algorithms today requires the adoption of large-scale numerical algebra technologies alongside the use of commonly used traditional libraries. More recently, we have focused our research on edge computing and the use of extremely low-cost, low-power single-board computers suitable for on-site analysis of data collected from remote sensors, in the field or on agricultural machinery. This latest-generation hardware makes real-time implementation of artificial intelligence algorithms and decision support tools feasible, which up to now has only been possible on remote machines and in the cloud.
Activities
Decision support systems (DSS) for agriculture 4.0
Smart agricultural machinery and low-cost precision agriculture
DAG
---